Fair haired?
You're in the right place.
Looking for new glasses can be daunting, but this guide is designed to help you find the right frame for you and your golden locks.
What glasses colour is best for blondes?
Glasses with earthy tones of dark brown, tortoiseshell or black suit blonde hair. These natural colours harmonise with your hair's golden tones. For a contemporary look, transluscent blue or green glasses frames also look great.
For blonde men and women, this guide is to help you find your next pair of glasses.
To get going, tap either button below.
Glasses for blonde women
Blonde, dirty blonde, strawberry blonde, peroxide white and anything between... there're many shades to consider when it comes to new eyeglasses.
We've pulled together this extensive list of blonde glasses styles for your optical inspiration.
Enjoy.
Quick links

Glasses to avoid
What's in style?
Clear glasses
Sunglasses
Oversized glasses
Black glasses
Tortoise glasses
Strawberry blonde
Glasses to look younger
Blue glasses
Wire frame glasses


Glasses to avoid
With blonde hair, you have a wide variety of glasses choice when it comes to choosing your next pair of glasses.
For a stylish youthful look, avoid rimless glasses.
Rimless frames can wash-you-out due to their lack of contrast on your face. Avoid minimal frames like these which lack visual presence.
Glasses to wear
Instead of rimless, try wearing full-rim acetate or metal frames with identifiable colour and definition. Full-rim glasses use material to surround each lens; either acetate, metal or both.
Acetate frames offer the widest range of colour, transparency and pattern. Thin acetate glasses are less shouty but still offer a touch of character and personality. Whilst chunky bold acetate glasses are far more stark on your face for an out-there look.
Wire frames are a vintage style which look great on anyone with any hair colour. For your blonde hair, keep in mind that wire spectacles create less contrast therefore it's a good idea to go big with this frame format.
What glasses are in style for 2024?
A growing optical trend for 2024 are tinted glasses. Lightly coloured lenses offer another dimension of personal style in a variety of shades from pink, blue, orange and green.
For that Hollywood look, why not get a very light tint on your next pair of glasses?
Matchy matchy
Like these crystal nude frames, the lightly tinted lens colour matches her oversized frame. This like-for-like style is really smart and ties-in with her hair perfectly.
Tinted lenses can be very subtle depending on their level of darkness. As little a 10% tint can bring a whole new colour realm to your eyeglasses.
Plus, they take the edge off when it's incredibly bright outside.
Do clear glasses look good on everyone?
Clear glasses flatter every skin tone or hair colour.
For the best look, ensure the frame suits your face shape and doesn't wash you out.
Transparent acetates come in a variety of colours, so choose one which works for your particular pallete. Brown, yellow, green or blue clear glasses frames are nice way to add depth to your look without being too bold on your face.
Like this style for example.
Coloured crystal
Lightly coloured crystal acetate frames are a beautiful way to add warmth and depth to your optical look.
Nude tones of amber, yellow or pink bring warmth to your face with the benefits of transparency. Clear eyeglasses frames are forever fashionable and have little chance of clashing with your clothes.
Frosted frames
Clear glasses frames don't always have to be crystal and gloss.
For a softer look, the acetate can be frosted so it's semi-transparent and less plastic looking. Matte finished crystal frames like these can look more natural and bring a gentler visual impact than a high-gloss shine.
For blonde hair, clear frame glasses are less stark than bulky dark ones.
If you're used to thin or even rimless spectacles, thick acetates in dark colours will probably feel very dominant in comparison.
This is where transparent frames can really help as they'll be less prominent on your face, but still yield a confident look.
Best of both?
Two tone eyeglasses are a fantastic middle-ground between opaque and clear.
Gradient acetates are incredibly classy and draw attention to your eyes where the frame has the strongest contrast against your face. Gradient or 'two tone' frames were incredibly popular during the 60's and have a vintage vibe.
For your blonde hair, look for frames with black or dark in the upper half and then clear in the lower half.
Oversized glasses for blonde hair
This might seem crazy.
But oversized glasses on women is a savvy move. Not only are your lenses easier to see through, but they make your head and face seem smaller than they actually are.
By contrasting your head with a large pair of glasses, your face will look more dainty and you'll draw attention to your eyes.
Here are some great examples of oversized glasses for women with blonde hair.
Gwen Stefani wears these incredibly bold flat-top eyeglasses to great effect. With her peroxide blonde hair and bold red lipstick, this is a seriously confident look.
This is a great example of big bold frames.
Aviator frames aren't always made of wire.
For a massively oversized style, acetate Aviators are about the biggest frame you can wear. For the ultimate vintage look, you can even get a tortoise pair!
If you're going to get some big eyeglasses, be sure they fit you properly, especially at the bridge width. If you have a narrow nose, the last thing you want is your new frame sliding down your nose.
A benefit of large wire spectacles are their adjustable pad arms.
If you're going for that oversized look, look for frames with metal pad arms which can later be adjusted to your nose.
A little tweak means they're more likely to perch properly on your nose.
But a word or warning…
A good rule to follow is to choose a frame where your pupils are in the middle of the lenses. If they're equidistant to the edges, you're onto a winner.
Don't choose glasses purely on their aesthetic. They need to function properly too!
Dominant, oversized, flattering.
If you want your face to look more dainty, opt for enormous frames that make your eyes the centre of attention.
Plus, a clear frame will go with any accessories, jewellery or colours of clothes you wear. Transparent eyeglasses are the chameleon of optics.
Your heard it here first.
Sunglasses for blondes
With dark tinted lenses, sunglasses give a strong contrast to your face.
If you have pale skin and fair hair, sunglasses will always be stark against your light complexion. Deciding on sunglasses comes down to the impression you want to make.
All black sunglasses are a stealthy, edgy look, especially in boxy frame shapes with angular lenses. If you have a short bob haircut, square sunglasses can sharpen your look nicely.
For a softer look, gentler colours or even a transparent frame will reduce the impact of a sunglasses frame against your skin.
Here's some examples below.
Do blondes look better in black or brown sunglasses?
Blondes look good in both brown or black sunglasses, but only if they suit your face shape. Choose a frame style that compliments your facial structure to create contrast and balance.
For round face shapes, stick to rectangular or boxy frames. They'll contrast your soft cheeks and chin with their sharp corners and edges. For a detailed guide, click here.
Regardless of age or hair colour, round sunglasses are a stylish shape. These round frames were popular in the 50's and 60's and have a timeless retro feel.
Whether your light blonde or greying, you can't go wrong with a pair of round shades.
For long or oval face shapes, round frames are a lovely look. With a classic keyhole bridge and rounded rims, a circular style frame will look great on you.
Oversized sunglasses are a great look for any female. Not only do they make your face and head look smaller, but they have excellent lens coverage.
For your eye and skin, big lenses reduce eye fatigue and prevent you from squinting to see. Over time, this can mitigate crows-feet and puts less strain on your eyes.
Be sure your sunglasses are UV40 for proper eye protection.
If bulky acetate sunglasses feel to heavy, why not go for some wire ones instead?
Wire frames are generally lighter weight than acetate equivalents but provide just as much lens coverage and style.
Aviator style sunglasses are a classic look and can really dominate your face for that flattering slimming-effect.
Can blondes wear black eyeglass frames?
Black eyeglasses can be stark for blondes. But depending on your taste, chunky black frames can be a dominant, confident look. For something more subtle, brown or semi-transparent acetates are less contrasting. It really depends if you want to make a statement with your eyewear.
Interestingly, big bold frames give the impression of being petit and dainty. A dominant pair of oversized black eyeglasses has the visual effect of looking smaller. Mono-coloured frames are quite flat and harsh looking, so why not try some two tone glasses instead?
Are black glasses too harsh?
Black glasses can look harsh if you have very pale skin and fair hair. But this stark contrast can be very fashionable if you like that oversized glasses look or want to make a statement.
For an understated look, thin black acetate glasses look great on anyone and are a safe bet if you have blonde hair. Plus, they'll look great with any colour of clothes you wear.
For a bold look, amp up the frame thickness. Chunky thick acetate frames are ultra cool and yield a very confident style. Either way, black frames work with blonde hair perfectly and are a very classic style.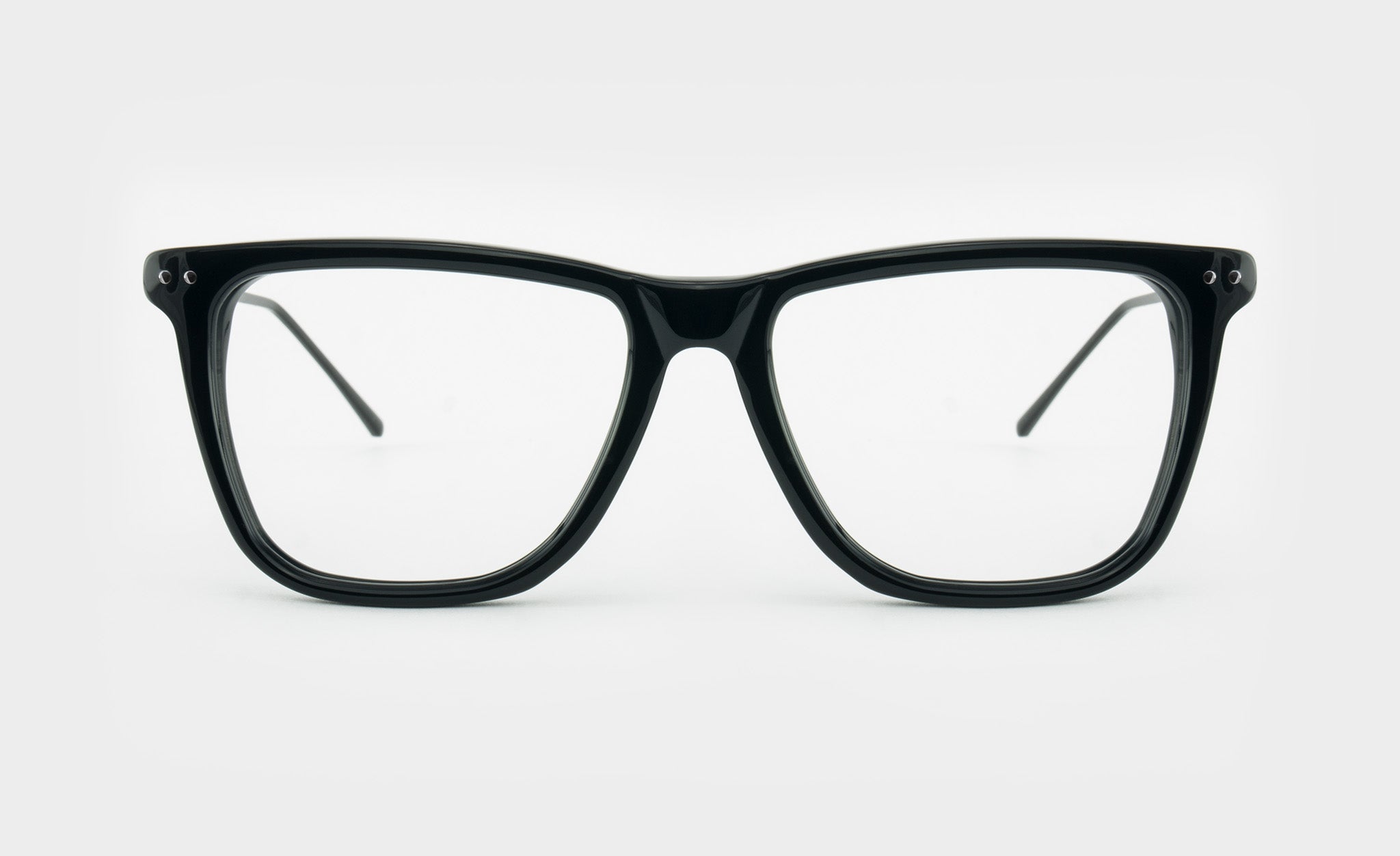 What kind of glasses does Jennifer Aniston wear?
Jennifer Aniston is known to wear Oliver People's glasses, often in brown, tortoise or semi-transparent acetate colours. These natural, earthy tones work perfectly with her famously blonde hair. Naturally coloured glasses like these look very organic and bring flattering warmth to your complexion.
Think beyond just the colour of your sunglasses.
Brown tinted lenses are a sneaky way to coordinate with your blonde hair. Plus, tis colour of lens is exceptionally versatile for varying sunlight.
Tortoise glasses for blonde women
Tortoiseshell acetate is a firm favourite for blonde haired glasses wearers.
Speckles of amber, browns and black work perfectly with your hair whether is strawberry, light or dark blonde.
Vintage style frames are making a real comeback, so if you choose a large pair of glasses, a tortoiseshell frame is the ultimate retro look.
What glasses suit strawberry blonde hair?
For blonde ginger hair, tortoiseshell, amber, black or clear eyeglasses frames work best. Subtly matching your frame with your hair is a great way to ensure they'll suit you without clashing too much.
Like the image above, her tortoiseshell frame and strawberry blonde hair are the perfect pairing together.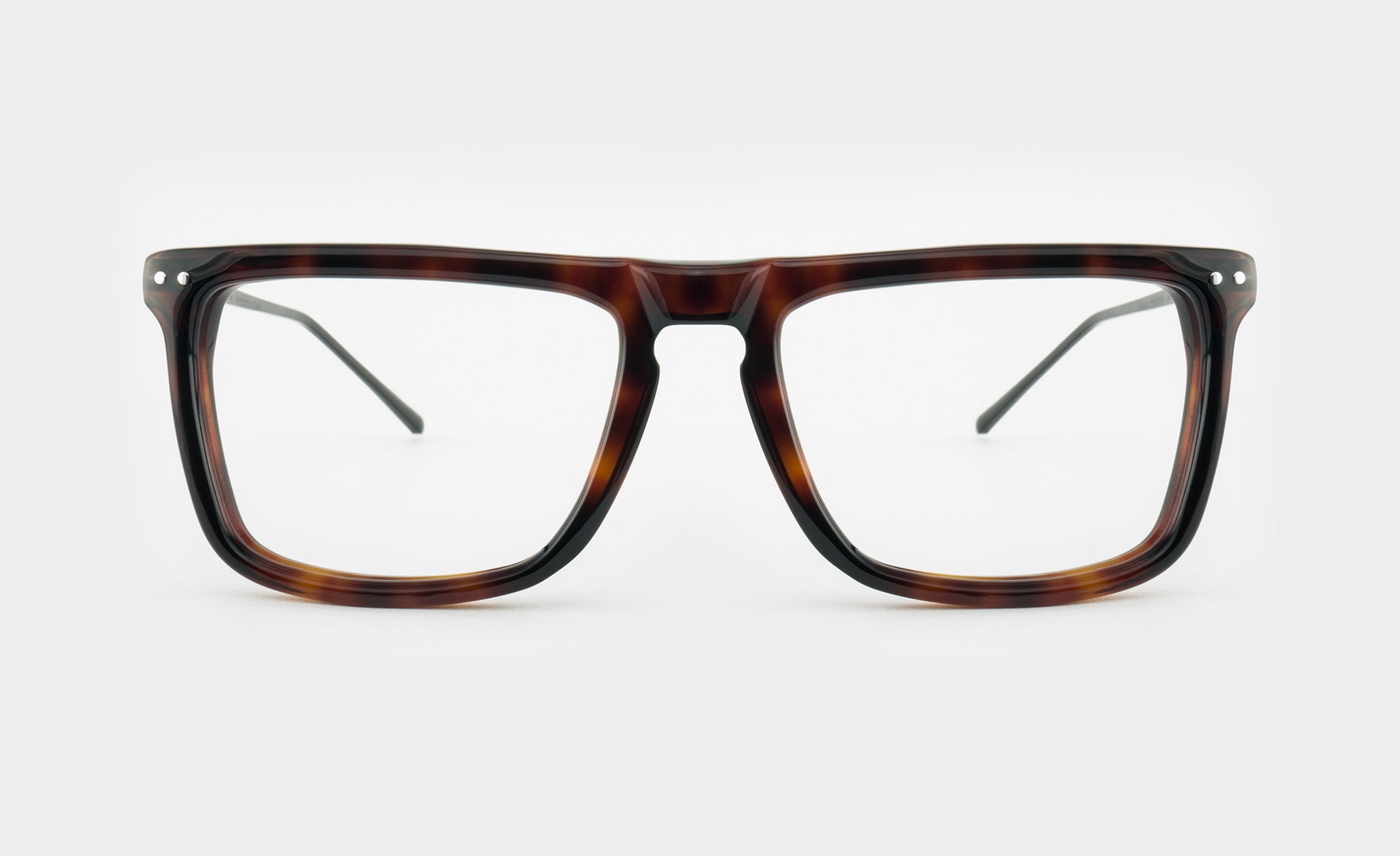 Blonde hair and tortoise shell acetate are just meant to be. Speckles of amber, honey and dark brown are the perfect pairing for various shades of blonde.
The lighter your hair colour, the more adventurous you can be with your colour of glasses. Tortoiseshell glasses come in a variety of patterns and colours, some of which can be incredibly subtle.
Whether you prefer a very strong or subtle pattern, look around for different tortoise acetates which suit your style.
Something in between?
Acetate and metal eyeglasses are often called 'combi' or 'combination' style frames. They're often lighter weight than entirely acetate glasses using metal for the bridge and temples.
If you want to keep the bulk down, combi frames are an elegant frame format.
For blondes, tortoiseshell is a really easy go-to. If you're unsure what colour to go for, you can bet on this classic pattern for any occasion, be it for work or casual settings.
Gold or silver?
Jewellery and accessories can tie-in to your choice of glasses.
Metal components on your glasses such as the pad arms, temples, hinges and rivets are subtle details to consider.
Gold is an obvious choice for blonde hair, so look out for frames which feature this colour is its hardware.
If you struggle with skin sensitivity, ensure any metal components are made of hypoallergenic materials like titanium. Good quality spectacles and sunglasses use titanium for it's strength and lightness and it's less like to cause a reaction.
Otherwise, stick to acetate. It's a safe bet.
What glasses make you look younger?
Round or rectangular acetate glasses are a great way to look younger, especially in classic colours like tortoise, brown or black. Full rim frames are simply more youthful than rimless glasses which have a habit of making you look older.
Like the lady above her frame is light grey brown colour. Working perfectly with her wonderful grey hair, this style of frame suits her face shape and contrasts her skin perfectly.
Full-rim frames are a classic look with youthful effect. For a more detailed guide, hit the link below.
Do blue glasses frames look good?
If you have blonde hair or pale skin, blue glasses can look especially great. For detail and depth, semi-transparent crystal blue glasses work wonderfully if you have blue eyes. Coloured crystal acetates are a great alternative to solid, opaque frame colours.
Blue frame spectacles work especially well for blondes. Fair hair lends itself to green and blue acetate colours which can be beautifully transparent for depth and character.
Don't be scared by blue glasses as they really suit lightly coloured hair and skin.
What colour glasses suit dark blondes?
Dark blondes suit amber, brown or tortoiseshell colour glasses. The dark honey hues in your hair match perfectly with earthy tones for a warming, flattering look. A neutral option are clear eyeglasses which contrast your brownish blonde hair.
For dark blonde hair, a wonderful acetate colour is amber or deep red. Frames like these have a retro 70's look which is making a big comeback.
Wire glasses for blonde hair
Over the past few years, wire spectacle frames have had a strong resurgence.
Undeniably retro, thin wire glasses are the antithesis of bulky acetate frame styles. If you prefer a skinny frame, some skeletal wires might just be perfect for you.
Keep in mind that your face shape should influence what shape of frame you choose.
If you have a round face shape, stick to square or rectangular glasses. Pointed corners and straight lines add definition to your soft cheeks and round chin.
For oval or long face shapes classic round wire frames are the way to go. They'll balance your features perfectly.
Here's some examples.
Wire glasses like this round RayBan frame are utterly vintage.
But for a contemporary feel, modern lens coatings and tints can really freshen things up.
For example, anti-glare reflects beautiful tones of green, purple and blue depending on how light bounces off your lenses.
Not only does this look great, but it improves the performance of your glasses!
---
Glasses for blonde men
Fair haired fellas, it's time for some optical inspiration.
If you struggle to find the right glasses for your blonde hair, these examples below will surely inspire your next investment.
For a studious, informed sort of look, thick round eyeglasses for men are a great way to announce your optical style.
For blonde hair, a crystal-clear frame with light colouration is a stylish way to wear chunky frames.
Tortoise accents on the temples give definition and a touch of class.
Round and bold
Round style glasses are incredibly popular as the quintessential glasses shape.
The very first optical lenses were round. And so were the frames that held them.
For a classic look, thick round glasses are the way to go. If you have blonde hair, opt for earthy frame colours such as amber, brown, olive or back. They'll harmonise with your hair and the thick frame will make your eyes centre stage.
Dark acetate glasses like brown, amber and black are a sensible idea. Not only are they the most popular colours for men's glasses frames, but they also bring natural warmth to your complexion and harmonise with your hair colour perfectly.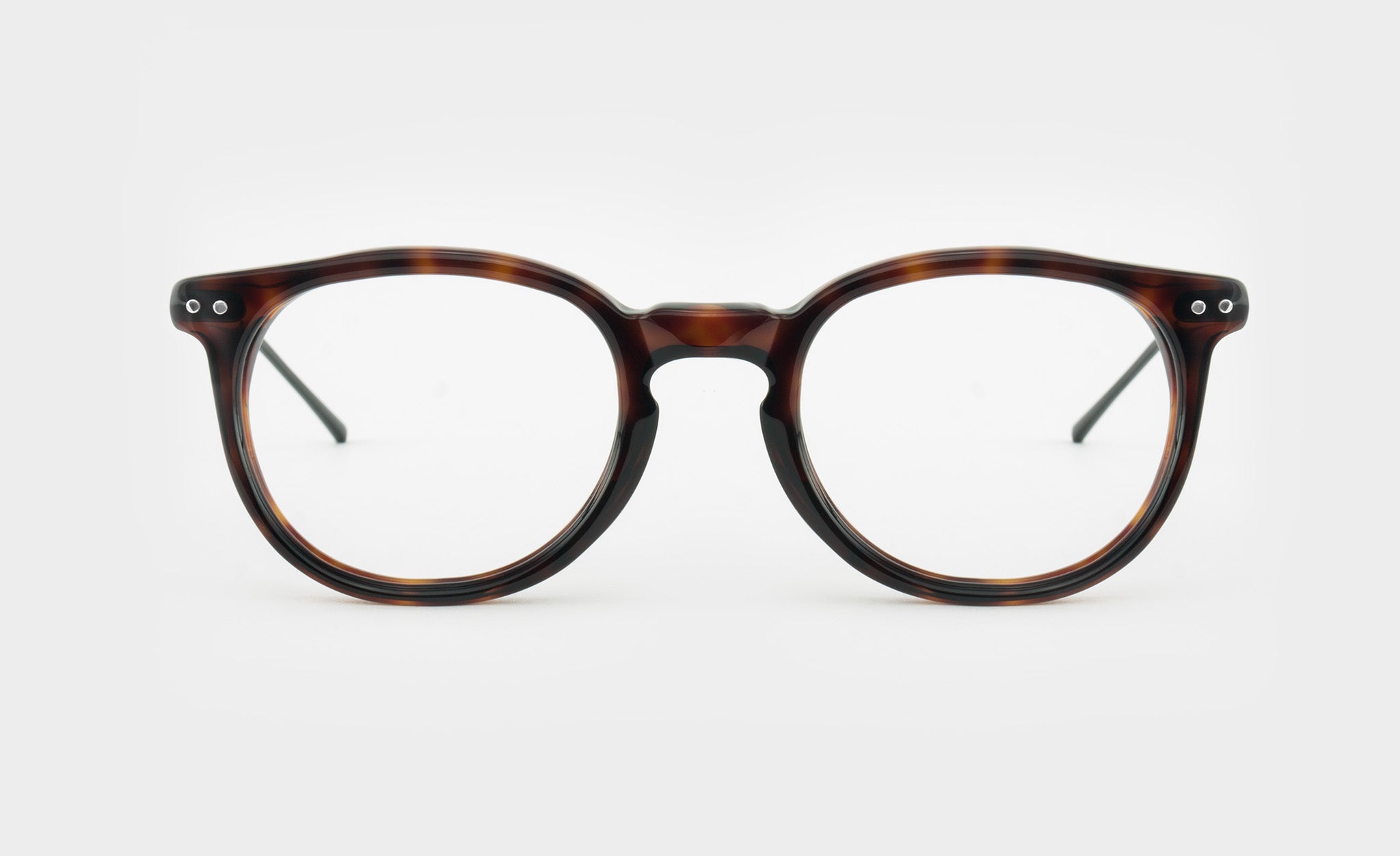 Coloured lenses
Fresh from the 70's and 80's, lightly tinted lenses are making a real come back.
Hollywood stars like Jonah Hill demonstrate the impact of coloured spectacle lenses as a great way to inject personality to your choice of glasses.
In any colour you can imagine, a 10% - 20% tint adds a whole new dimension to your spectacles, in great style too.
If you're considering some lightly tinted lenses, a neutral coloured frame is a good way to avoid having too much colour going on. Black or dark grey glasses will let the colour of your lenses pop more.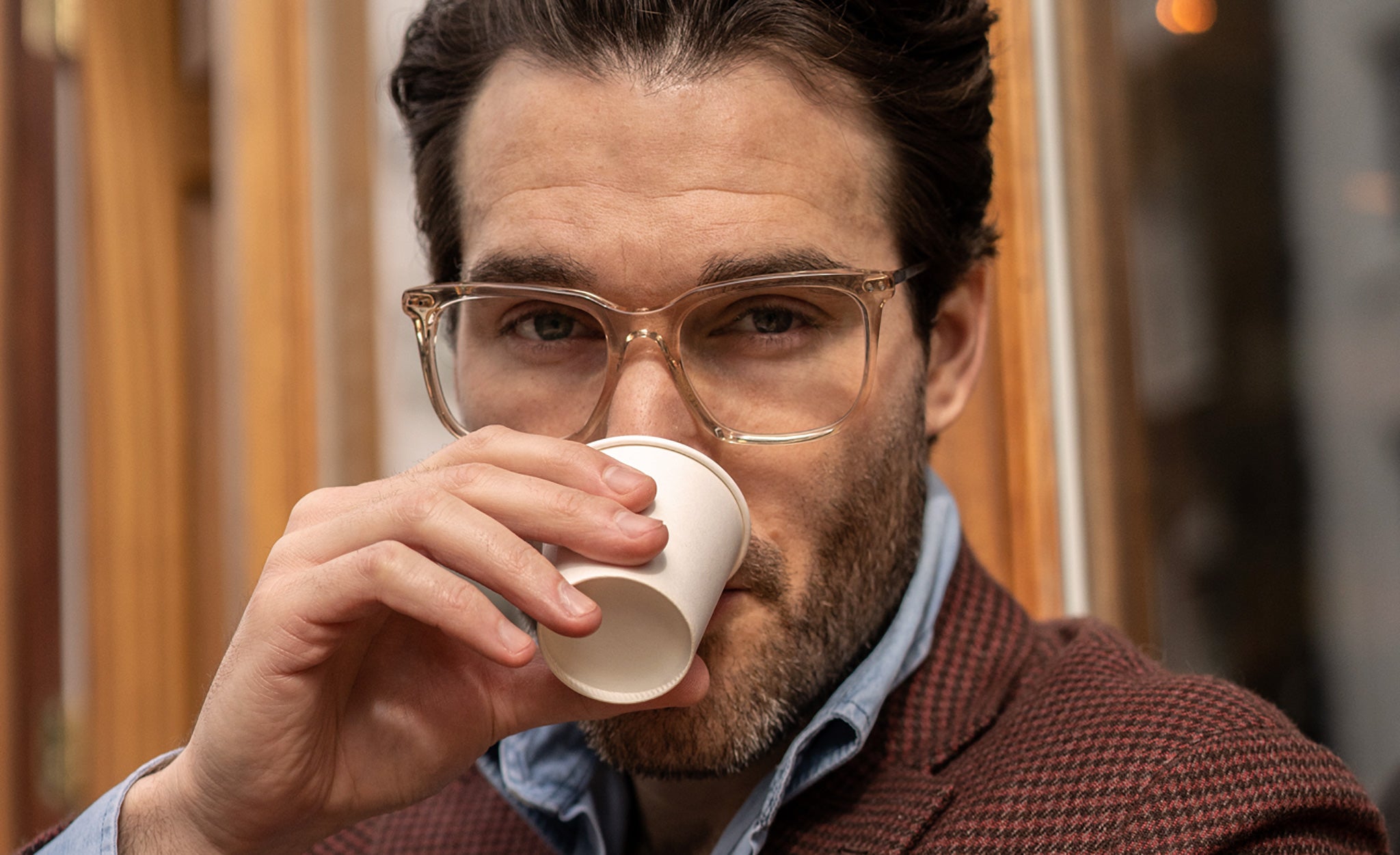 If patterned frames are too out-there, why not go for a mono colour or crystal instead?
Translucent acetates are a subtle style. They're much less 'shouty' than thick stark frames in bold colours like black. Why not go for a lightly tinted crystal coloured frame instead? Grey, amber, yellow or brown acetates can be much more forgiving.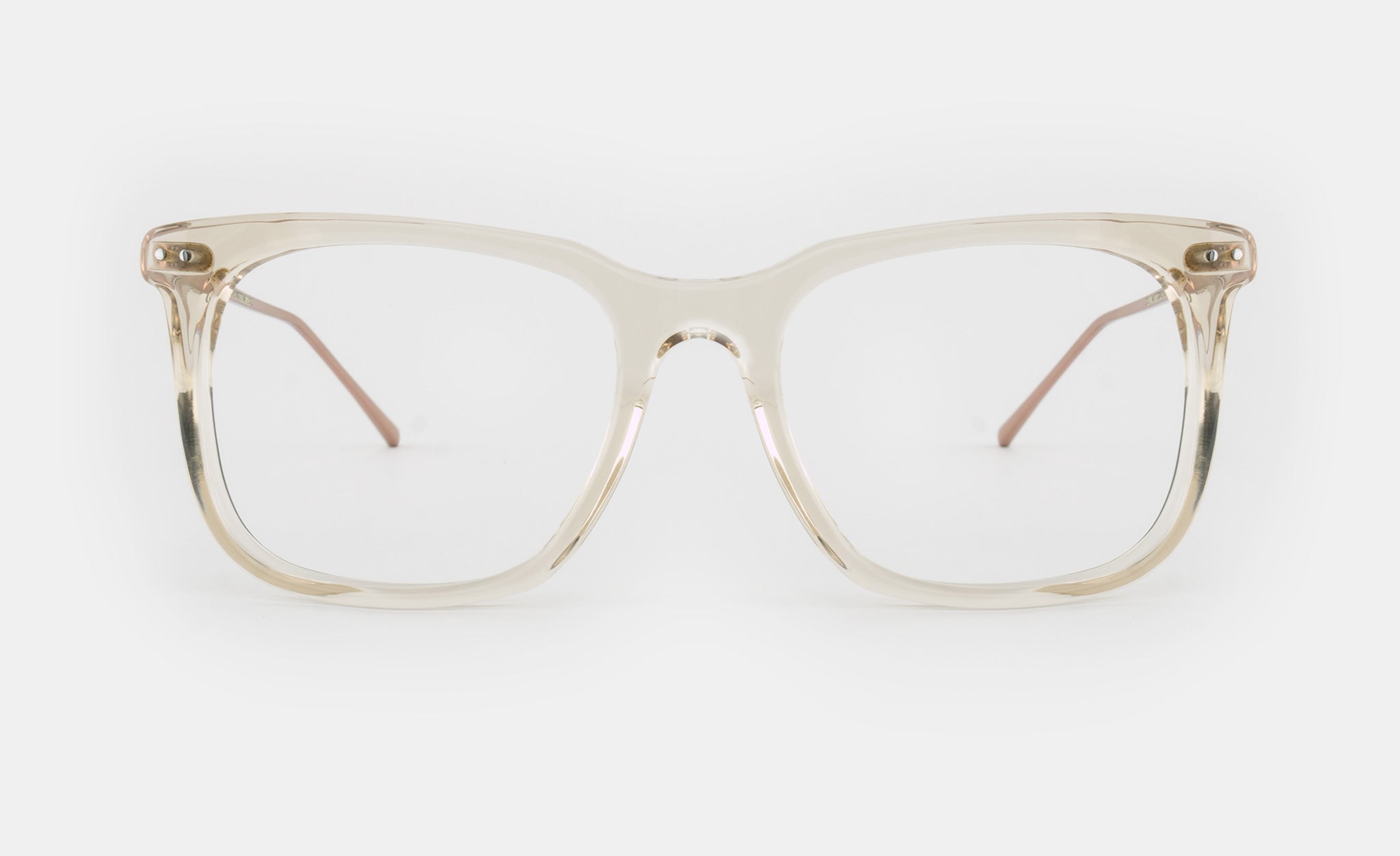 The beauty of acetate is its sheer variety of colours, patterns and transparencies. There are so many to choose from so take your time to find one that works for your skin tone and hair colour.
Once you know what shape of frame suits you, a great style-hack is to have the same frame but in two different colours.
Each will look completley different, but both will suit you.
To establish your face shape, check out this handy guide.
If you're stuck on which acetate to choose, tortoiseshell is one of the most eternally fashionable styles. Since the 1900's, this speckled look of black, brown and honey works with literally any skin colour. Furthermore, a tortoise frame in a rectangular shape suits the majority of face shapes, so you really can't go wrong with glasses like these.
Men's wire frame glasses
For something less bold, why not choose some wire frame eyeglasses?
Thin frames like these are incredibly stylish, especially amongst a younger crowd who like that throwback vintage style.
Double bridge frames like these Aviators are super 70's and very on trend for 2024 and 2025.
Men's two tone frames
Gradient glasses frames draw attention to your eyes and brow line.
This is the most expressive part of your face and can give a serious, confident sort of look. In the examples above and below, dark frames with a clear lower half are the perfect colour for your blonder hair.
The dark black upper gives just enough contrast to your face, whilst the transparent lower half gives way for a subtle aesthetic.
What are tortoiseshell glasses?
Today, tortoiseshell glasses are predominantly made from acetate to imitate the real shells or Hawksbill turtles. Thanks to their natural tones of amber, brown and black, tortoiseshell glasses are very warming on the face, hence their popularity and classic nature.
Tortoiseshell frames became mainstream from motion picture in the 1920's.
Famously, Harold Lloyd wore his round (real) tortoiseshell glasses to mass appeal in his Hollywood hit "Over the Fence." Read more here.
One of the most popular men's eyeglass styles for blonde hair are round tortoiseshell frames.
Since the early 1900's tortoise glasses have been one of the most iconic colours of spectacles for men. Throughout the acetate, honey hues and flecks of dark brown are the perfect pairing for your blonde hair.
You really can't go wrong.