Summer or winter, strong light conditions are the perfect cue to break out your sunglasses and enjoy the good weather.
However, if you're like most people, you may not know which style of sunglasses best complements your face shape. For men and women, follow this guide for tips on picking the right sunglasses for your heart-shaped face.
Let's dive in.
What does a heart shaped face look like?
A heart-shaped face is wider at the top than the bottom. Your chin is short and pointed with a soft jawline. Your cheekbones are as equally wide as your eyebrows. It's also likely you have a widow's peak hairline which gives your face that top heavy heart-shaped appearance.
Do I have a heart shaped face?
There are four key features that you can look for to determine if you have a heart-shaped face. Looking in the mirror or using a self portrait photograph, check for the following;
Do you have a widow's peak hairline?
Is your forehead the same width as your cheekbones?
Is your jawline soft?
Is your chin pointed?
Which sunglasses are best for a heart-shaped face?
The best sunglasses for heart shaped faces are those with angular details featuring a square or boxy frame-shapes with straight lines. Geometric sunglasses styles help give your face more definition and structure by contrasting your soft cheeks and jawline.
However, your choice of sunglasses is entirely subjective and totally up to you. If boxy shades aren't your thing, there's plenty of other styles to choose from. For some optical inspiration, check out these sunglasses styles below.
Sunglasses for women with a heart shaped face
Square sunglasses
Square glasses are the ideal frame shape for women with heart shaped faces. The straight lines of the frame help balance out the face's soft curves, while the slightly wider design helps to elongate the features. As a result, square glasses are a flattering choice for any woman who likes big sunglasses styles.
Browline sunglasses
If you have a heart-shaped face, you should opt for browline sunglasses. These acetate and metal combination frames will help soften your face's angles, resulting in a more feminine look. And when it comes to frame colours, remember that less is more. Choose a simple frame in a classic hue like black or brown, and let your natural beauty shine through.
Geometric sunlasses
An emerging sunglasses style for women are large geometric frame shapes. With large lens coverage and dominant angular designs, geometric shades are a great way to make a statement. For heart shapes faces, opt for sunglasses frames with facets, straight lines or sharpish corners. By contrast, these sharp details help bring structure to your soft facial features.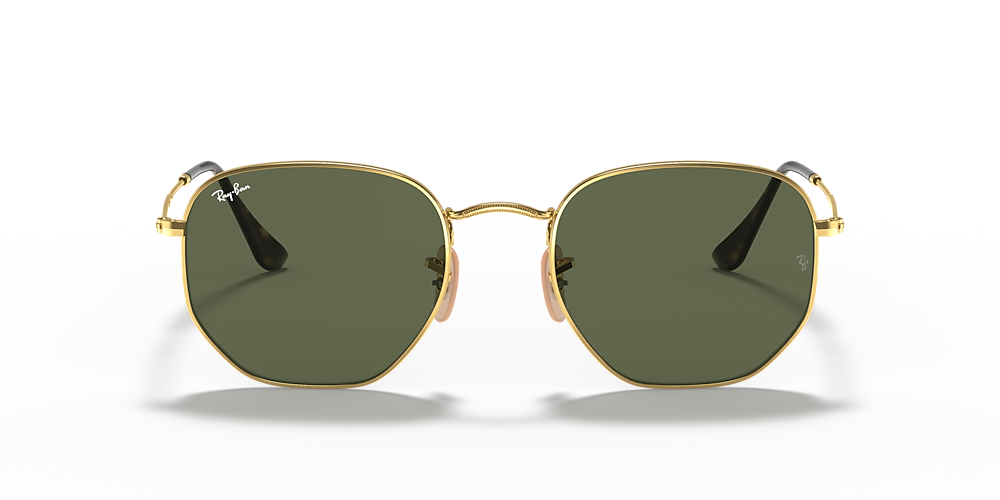 Cat-Eye sunglasses
Whether you're looking for a pair of glasses to wear to work or a pair to wear out on the town, angular cat-eye glasses are a great choice. The sleek lines of the frames help to elongate the features of a heart-shaped face, while the cat-eye design adds a touch of glamour. And when it comes to colours, you can't go wrong with classic black or sophisticated tortoise shell.
Round metal sunglasses
Round sunglasses are the ultimate retro look. Ever since the 1950's, round frames have been worn by celebrities, artists and music icons akin. Round wire sunglasses are a classic look for any woman who likes keeping thing simple. For a truly vintage vibe, why not try some colour tinted lenses like purple, orange or green?
Rectangular sunglasses
If you're looking for statement sunglasses, look no further than rectangular glasses. The sharp lines of the frames help balance out the soft curves of a heart-shaped face, while the dominant lenses provide excellent UV protection. And when it comes to colours, anything goes. From classic black to speckled tortoise patterns, there's sure to be a pair that catches your eye.
Oval sunglasses
Try a pair of oval glasses for a classic look that never goes out of style. The simple and elegant design is flattering for any face shape, but it's especially complimentary for heart-shaped faces. And when it comes to colours, you can't go wrong with classic blue, black or green.
Sunglasses for men with a heart shaped face
Aviators
These sunglasses are one of the most versatile frame designs and are perfect for your heart shaped face. With their classic tear-drop lenses and dominant facial coverage, they suit any man who's looking for a timeless looking frame with classic style. If you prefer lightweight sunglasses, wire-rimmed Aviators are a good option to keep the bulk down. But if you like bolder frames, why not try some full-rimmed acetate ones?
Clubmaster sunglasses
In the 1950s, this combinations style sunglasses style would define a generation. Also known as browline frames, these sunglasses are characterised by their thick acetate browlines and slim metal rims. Today, Clubmasters are enjoying a resurgence in popularity as more and more people are drawn to their retro charm. For a classic look, add a touch of style to your everyday outfit with a pair of Clubmasters; the perfect sunglasses for your heart-shaped face.
Round sunlasses
Round sunglasses are a bold look, especially with dark tinted lenses. For a heart shaped face like yours, make sure to wear frames that fit you properly to avoid making your face seem wider than it really is. Look for sunglasses with sufficiently wide lenses to help balance your features. Bigger frames make your head seem smaller and less wide, so don't be afraid to go BIG.
Square sunglasses
Square sunglasses are a great choice for men with heart-shaped faces. With pointed corners and straight lines, they'll bring perfect balance to your soft cheeks and jawline. Precisely why boxy sunglasses frames are one of most popular styles; you really can't go wrong.
Oval Glasses
Oval sunglasses are the perfect balance between round and square. Not too circular, nor too boxy, they're that in-between style that can be worn anywhere at any occasion. If you have a heart-shaped face, the frame's soft curves will harmonise with your face for a relaxed sort of look. Furthermore, oval glasses are versatile and can be worn in various styles. Whether you're looking for a classic look or something more modern, a pair of oval glasses will help you make a statement.
Is a heart shaped face good?
According to a study by the Temple University School of Medicine in Philadelphia "a heart-shaped midface is the quintessential symbol of youth." So, in a nutshell, yes; a heart shaped face for women is deemed attractive.
In 2017, research was carried out to analyse 55 photos of attractive female models, using a computer system to assess craniofacial distances between the eyes, cheekbones, nose and brows. School scientist Dr Gary Linkov explains the use of their software WIZDOM; measuring the Width of the Interzygomatic Distance of the Midface. I.e.: the width of the cheekbones.
"Interestingly, brow length and WIZDOM measurements were found to be nearly identical, without a statistically significant difference. Therefore, the zygomaxillary points should ideally lie vertically below the tail of the corresponding eyebrow."
Dr Gary Linkov |  Liverpool School of Art and Design
In other words, the research quantified that equally wide cheekbones and eyebrows were mathematically deemed the most attractive. So, if your facial structure is similar to Eva Longoria or Naomi Campbell, you're sharing some (scientifically proven) attractive features.
Celebrities with heart shaped face
There are screeds of celebrities who have a heart-shaped face and is something of a staple look amongst Hollywood stars. With their broad foreheads, big eyes, delicate chins and cheekbones, celebrities with heart-shaped faces have long been considered some of the most beautiful people in the world.
Ryan Gosling, Cheryl Cole, Eva Longoria-Parker, Gwyneth Paltrow, Justin Timberlake, Mary-Kate Olsen, and Naomi Campbell are just a few stars who have heart shaped faces. Scroll below to see their choice of sunglasses.
Considered by many to have a heart shaped face, Ryan Gosling wears the full rimmed acetate Aviator sunglasses. Big chunky frames like these with tall lenses compliment his features nicely. If you like big sunglasses, the Aviator is a timeless classic.
British singer and TV personality Cheryl Cole is known for her petit face and high cheekbones. A great example of the heart face shape, she compliments her features with large oversized 'butterfly' sunglasses frames. For women, big shades are a great way to make your face look smaller and more feminine.
Eva Longoria is the epitome of the heart face shape. She usually wears large sunglasses frames such as the 'butterfly' style or, as seen above, Aviators. These big sunglasses suit her dark hair and dimpled smile whilst balancing her soft cheeks and chin.
If boxy frames seem to masculine for you, a pair of rounded sunglasses yield an effortlessly stylish look. For your wide cheekbones and top-heavy face shape, round frames like Gwyneth Paltrow's are the perfect 50's style that oozes class and sophistication.
Ovular sunglasses are the archetype of 50's eyewear. Made from chunky acetate with rounded rims, these sunglasses are often known as Wayfarers. Singer and actor Justin Timberlake showcases the versatility of this style of frame, pairing them with a smart casual shirt and jacket outfit. For men or women, oval sunglasses can be worn at any occasion with effortless style.
Mary Kate Ohlsen has a characteristically heart shaped face. With wide cheekbones and a soft chin, she's a great example why round sunglasses can work for you. Opting for a retro vibe, her round wire rimmed sunglasses are fitted with red-tinted lenses. These have a 70's sort of look which works well with her blonde hair.
High and wide cheekbones are one of the strongest traits of the heart shaped face. To make your head seem less wide, big sunglasses with tall lenses help make your face seem smaller and longer. Naomi Campbell wears these geometric butterfly sunglasses to perfection with angular facets around the rims. Ideal for her wide forehead and soft jawline.
Top 5 sunglasses tips
With a heart shaped face, you'll want to accentuate your attractive facial features. But there's more to choosing new sunglasses than just their style. Here's 5 tips to help you make the best investment.
Get the right fit of sunglasses to make sure they're comfortable and easy to wear. Take a note of your ideal lens width, bridge with and temple length for easier sunglasses section. Click here for a guide on how to do this.
UV400 sunglasses will provide you with proper eye protection from the sun. Always check with the merchant or on the frame itself that they're fully protective. A UV400 or UV40 certification means they're fitted with legitimate lenses.
Darker lenses don't mean more protection. Lens darkness is purely for visual comfort and doesn't make the lenses any more or less protective. Always check for the UV400 rating.
Hypoallergenic frame materials are less likely to cause irritation if you have sensitive skin. Cellulose acetate, steel or titanium are good options as they're high-quality materials which are unlikely to deteriorate or affect your skin.
Polarised lenses help to reduce eyestrain over long durations of visual focus. For activities such as driving, sailing, fishing or skiing, these lenses block reflected glare from shiny road surfaces, water or snow.
Should sunglasses cover eyebrows?
Sunglasses can cover your eyebrows depending on their size, shape, thickness and fit. It's perfectly okay if your sunglasses reach above your brow line as this can actually aid eye protection from the sun.
In fact, sunglasses which cover your eyebrows are more likely to prevent UV exposure to your eyes and surrounding skin. The closer your sunglasses are to your face, the less chance there is of 'light leak' entering your eyes from above or from the sides of your sunglasses.
This is why sports or mountaineering sunglasses usually have such strong frame curvatures, to 'wrap' closely around your face to block-out as much light as possible.
Whether sunglasses cover your eyebrows or not is purely a personal choice, but you can bet that big sunglasses with large facial coverage will give you better protection from the sun.
Can heart-shaped faces wear square sunglasses?
Yes, heart-shaped faces can definitely wear square sunglasses. Boxy shades will contrast your soft cheeks and jawline and bring angular structure to your face. With their dark lenses and angular rims, square sunglasses frames are ideal for heart shaped faces.
Do aviators suit heart-shaped faces?
Yes, Aviator sunglasses suit heart shaped faces. Their straight brow line (across the top) and tall tear-drop lenses help balance your broad forehead and narrow chin. As they're a very large style of frame, Aviators suit the majority of face shapes with ease.
Final Thoughts
Heart faces have soft jaws
Heart faces have pointed chins
Heart faces have equally wide foreheads and cheekbones
Heart faces usually have a widow's peak hairline
Large boxy sunglasses are a great shape for you
Try to find a frame that fits you properly
Always check for UV400 lenses
Hopefully you found this article helpful.
Thanks for stopping by.